Did you know that not all Mad Cat beers are available through our online shop, or indeed any shop? There is one beer that we make exclusively for just one customer. No, we're not talking about a super-fan who has cases of bottles stacked up in every corner of his house - thank goodness - but a fantastic chain of Thai restaurants known as Rosa's Thai Cafe located all over the UK who serve our Rosa's Thai-PA in every branch. So how did a small brewery in Kent team up with a nationwide, South-East Asian eatery? Read on to find out…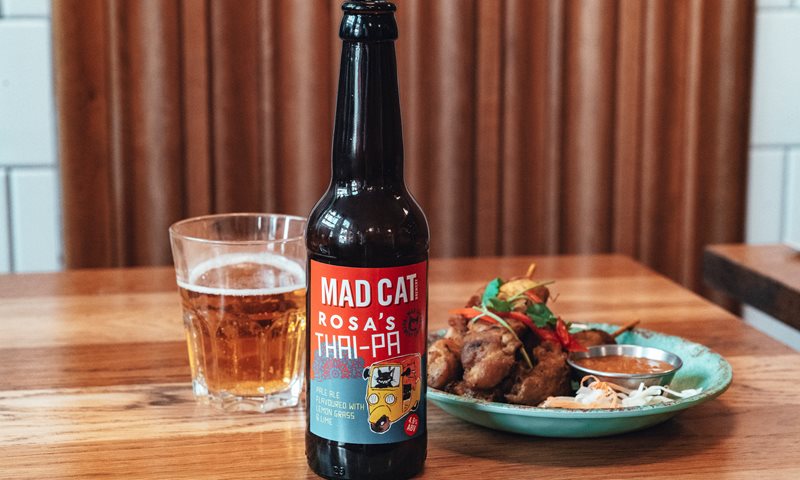 Back in 2019, we challenged our brewer to come up with some exciting new beers under the working title of "Ben's Moggies". These were to be one-off specials that were a bit different from our usual ales; a chance to be experimental and creative. He threw a few ideas at us, some of which didn't make the grade, but one that stuck was the idea of a "Thai-PA". The thought of combining the intense citrus hop aromas of an IPA with the traditional Thai flavour blend of lemongrass and lime seemed like a winner, so he set about making some test batches on a home-brew kit. Meanwhile, unknown to us, other plans were afoot.
If you've never heard of Rosa's Thai Cafe, you are missing out. They serve up delicious Thai food in a casual, modern setting that appeals to everyone. They set up their first restaurant in 2008 in an old greasy-spoon in the East End of London, but quickly gained a reputation for their excellent food and quick service. Since those early days, they've grown to more than 20 branches, each one with its own unique character and decor, and they still produce the same honest Thai cuisine they always have.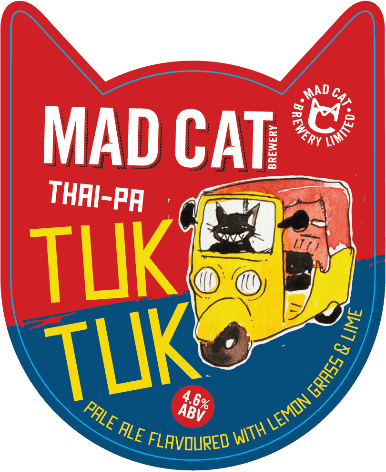 At the same time that we were brewing up our test batches of Thai-PA, Rosa's were on the lookout for some new beers. They had started approaching independent breweries local to each of their branches in order to buy in bottled craft beers for their customers, and it just so happened that one of their emails landed in our inbox. As soon as we saw it, there was an instant lightbulb moment - surely our delicious new lemongrass beer, now named "Tuk Tuk Thai-PA", would perfectly compliment their fabulous food? We offered to send them some samples. They, unsurprisingly, agreed. Then they called us to arrange a meeting.
It quickly became apparent that they loved the taste and concept of the beer, but the name had divided opinion at Rosa's HQ. It seemed there was a camp that wanted to stick with "Tuk Tuk", and another that wanted a name more in line with the Rosa's brand. "No problem", we said, "just let us know and we can call it whatever you like". The next issue then was how much beer they wanted. We had expected an initial roll out in a few branches to test the water, so when they said that they wanted to launch the beer in EVERY Rosa's restaurant within the next few months, I think our chins almost hit the floor. "Do you think you can manage that?" they asked. "I think we can" was our poker-faced reply. There was no doubt that we could supply what they wanted, we were just unbelievably touched by their faith in us and our product.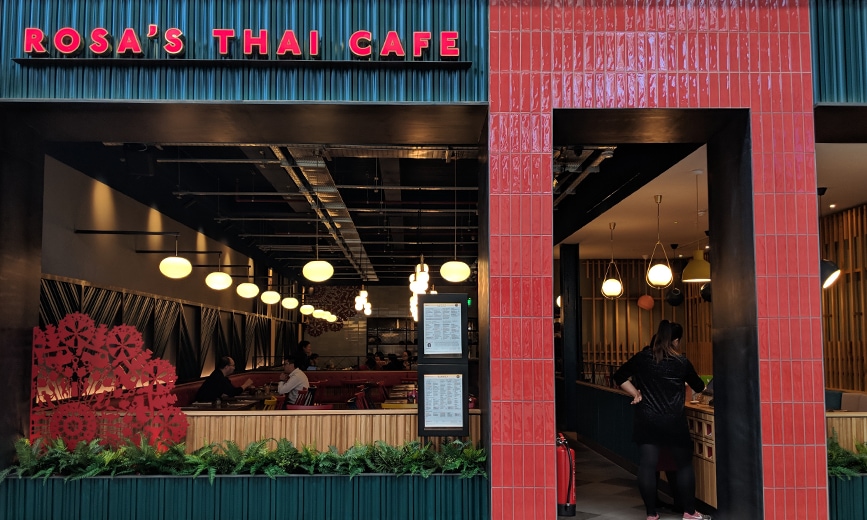 They settled on the name "Rosa's Thai-PA", but kept most of the original branding from "Tuk Tuk Thai-PA" and we agreed to brew it exclusively for them. The rest, as they say, is history. Needless to say, the roll out was a success; the beer paired perfectly with the spicy and aromatic Thai dishes and provided customers with just the refreshment they needed. Even through the recent lockdowns we have continued to brew for Rosa's, as most of their branches have switched to making deliveries in their local area. We understand that they have big plans for the future, once the current crisis has passed, and we sincerely hope that Mad Cat will continue to be a part of that.
Please do give Rosa's Thai Cafe a try if you can. You can find your nearest branch here and I can personally recommend their "drunken noodles".