We welcome all enquiries from our colleagues in the beer trade. Whether you run a pub, bar, bottle shop, beer delivery service, off-licence, restaurant or cafe, we have something to offer you.
Whilst we mostly deliver directly to businesses across Kent, we are also able to ship certain products to anywhere in mainland Britain, so please do get in touch regardless of where you are based. And if you have a trade account with Eebria, you can see our offering with them here.
Our wholesale prices are competitive, and discounts are available for bulk orders and to those who commit to ordering from us regularly.
To discuss your beer needs and to see what we can do for you, please call us on 01795 597743 or send us a message through the contact form at the bottom of this page.
Mad Cat now available in kegs
Great news for pubs and bars – Mad Cat is now selling beer in kegs and key-kegs.  We know these can be a popular option for some businesses who need their draught beers to last that bit longer and of course we are very happy that our delicious craft beers are now being sold in a way which is more practical for a wider range of businesses.
So, if you're a club or society, for example, that only serves beer on occasional days – a keg or key-keg is the perfect option.  You can now offer your members some fabulous artisan ale from Mad Cat on tap!  Kegs are also great for pubs and bars that want to serve a wider selection of beers without worrying about whether their ales are keeping fresh.
Delivering around the country
This is also great news for pubs and bars across the country as we are able to deliver our kegs and key-kegs nationwide – so drinkers around the country can enjoy a pint of Mad Cat in their favourite watering hole.
Don't hesitate to get in touch if you'd like to find out more.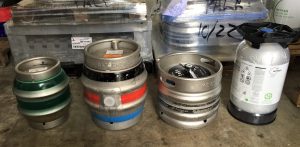 Available Products
The products below are currently available for delivery to our trade customers. Please click on the images for further details.