We are super-excited to announce that we are releasing four new bottles and a brand new beer, all at the same time!
After Christmas, our stores were looking pretty empty, so all through January we have been busy brewing up more beer for our wonderful customers. And in those cold, rainy weeks at the start of the year, we managed to produce not one, or two, but SIX different ales to tempt you lovely people. Now, we could have just released them as and when they were ready, but where's the fun in that? So we're bringing all six out at the same time. Hazzah!
Better still, four have found their way into 330ml bottles for the very first time. So, if a 5 litre minikeg seems a bit daunting, why not try these brand new bottles of Mad Cat beer at home and bring yourself a little bit of sunshine during Lockdown? They're available right now on our online shop, or read on to find out more about them...
Unsinkable Sam
There are ordinary bitters, and there are best bitters. Then, there's Unsinkable Sam. This 5.2% amber "export" bitter is an absolute cracker, with rich flavours of maple and biscuit maltiness, and notes of orange and marmalade from First Gold and East Kent Golding hops. Named after a real life cat who survived the sinking of three different ships during WW2, we felt Unsinkable Sam reflected the spirit of resilience that is getting us through these difficult Covid times.
9th Life
The strongest beer on our books, 9th Life has been a real hit during Lockdown. But there's much more to it than its 5.9% abv. Packed with Cascade and Columbus hops from the US, this IPA has a heady aroma of citrus fruits and liquorice backed up by a full-bodied malt profile that is smooth and tasty. This is a dangerously drinkable ale.
Golden IPA
Golden IPA was the very first beer we ever brewed, waaaaay back in 2012, and it has remained so popular, we've been brewing it ever since. So what makes it so good? Well, a touch of amber malt provides it's perfect golden hue and lightly toasty flavour, whilst a winning combo of Aurora and Cascade hops imbue it with a delicious peppery and fresh citrus aroma. Plus, at 4.2% you can enjoy a few without feeling guilty.
Emotional Blackmail
When our brewer first started with us, we set him a challenge to create a dark beer with a difference, and this fantastic 4.5% ruby ale is the result. A large dash of rye in with the malt gives Emotional Blackmail a delicious spicy dryness that combines perfectly with the rich, earthy Target hops, nicely topped off with a bitter finish than lingers on the tongue. And the name? Well, it seemed only fair to name it after our brewer's cat - so called because he was emotionally blackmailed into adopting him, he's known as "Moe" for short.
"But wait", I hear you cry, "we've seen these beers before. Didn't you say there's a new one too?" Indeed I did, so it is with great pleasure that I can announce the latest arrival to Mad Cat Brewery... 9th Life Noir, our first ever black IPA.
There are some who will tell you that black IPA is an oxymoron; after all, how can an India pale ale be black? But we don't care what they think, because whatever you call it, it's an awesome beer. It has all the citrusy, peppery, liquorice hoppiness of our regular 9th Life, but is jet black with a smooth, malty profile that has just the very lightest suggestion of the sort of roasty flavours you'd expect of a beer this dark. Everyone who has tried 9th Life Noir so far has been back for more, and we hope you will be too. It's available right now in both 5 litre minikegs and 9 gallon cask.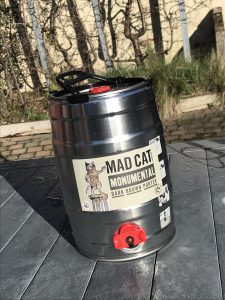 And so to our final release for early February – Monumental. This epic 5.2% dark brown porter made its first appearance in the summer of 2020 and was such a hit with our customers that we quickly sold out. Dark and roasty with a rich malty sweetness and packed with a blend of 100% English-grown hops, Monumental is truly larger than life and available for purchase from our online shop in 5 litre minikegs. Grab some now, before it's gone!
Prize Draw
Now that you've heard all about our fantastic new products, do you fancy the chance to win a mixed case of those lovely bottles? Well, check out this FREE prize draw, all you have to do is subscribe to our monthly e-newsletter.
We've had a lot of fun getting these beers ready for you, so it's a real thrill to be sending them out into the world. Hopefully you'll enjoy them as much as we do. All of them are available to buy right now from our online shop. Cheers!