In 2013 Mike Wren, a broker in the City Of London, left his job and opened a pub, The Long Pond in Eltham. The Pub was named after a well loved feature in a local park and based in a line of shops in Westmount Road. It soon gained a following and a reputation for selling quality real ales. initially bringing beers in from all over, Mike and his team realised they had a collection of local breweries in Kent who could supply all their needs. They decided to focus on local breweries for the forseeable future.
Mad Cat Brewery opened in 2012 and was referred to Mike at the Long Pond by a mutual friend. Mad Cat had a growing group of pub customers in the South East London area and Mike agreed to start taking beer from us soon after he opened. We are fortunate that Mike has led many drinkers to the delights of Mad Cat beers on a pretty continuous basis since he started up.
The Long Pond is comfortable and unusual in the micro-pub world for having both a public bar area and a more intimate side lounge offering customers the opportunity to socialise with a crowd or, more intimately, with a few friends.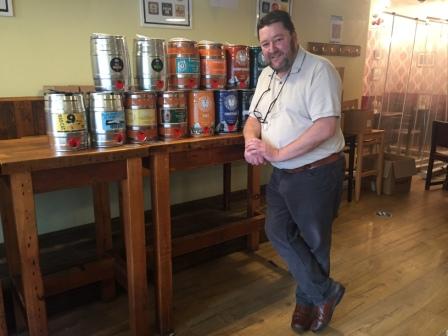 This following has proved to be of vital importance to Mike during The Covid Lockdowns. "I've got a lot of friends now who can't get out; I can't just shut and leave them isolated. People come here to see their friends, they're missing each other."
So The Long Pond In Eltham commenced deliveries to their local customers, seeing they were ok and keeping in contact. Sometimes beer would go out in milk bottles, but now seems to be focused on very popular 5 litre minikegs of real ale. The first lockdown peaked and waned. A short respite meant a brief re-opening. Mike was able to "do food" and welcomed people back to The Long Pond. However with rising Covid cases and a new tier system, the next subsequent lockdown meant going back to deliveries only.
Yet despite this, Mike has persisted in ensuring a delivery service to people who can't come to his pub. The impact is felt in his local community, but also back up the supply chain where small local breweries like Mad Cat Brewery, and the other Kent breweries Mike focuses on, rely on his business. For which we thank him!
Mike's delivery capability is local to Eltham and the surrounding area. For details, contact him directly. Phone and text details, or webshop ordering details, are on his website.