How a Faversham microbrewery has adapted to challenging trading conditions by changing the way it sells its beers.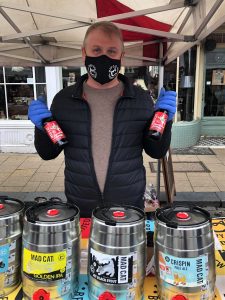 Over the last eight years, Mad Cat Brewery has been building a strong reputation for unique and delicious craft beers with a quirky line in names and branding! Our business model has always been to sell to the drinks trade around Kent, only really getting to meet our end-consumers when we sell beers at events and markets or hold brewery tours.
Difficult times for brewers
As a small brewery, we've always loved working with local pubs and bars – they are passionate about their businesses and really know their customers. However, this method of selling our beers was completely turned upside down earlier this year when lockdown struck. Like many other businesses we have been struggling to keep our heads above the water in these very difficult times and in order to survive, we've needed to change the way we operate.
Now selling online
Mad Cat is now selling its beers online direct to the public which is great news for craft beer fans desperately missing their favourite local brews. Staying in during a pandemic is hard enough, but it's made worse if you can't enjoy your favourite tipple! So, customers throughout Kent and the rest of the UK are now able to order direct from us.
It's also good news for discerning customers who like to shop local and support Faversham businesses. Now they can shop directly with us, we have rescued them from having to buy those national beer brands from our major supermarkets!
Also, by shopping with us, customers are offering us a lifeline, for which we are hugely grateful.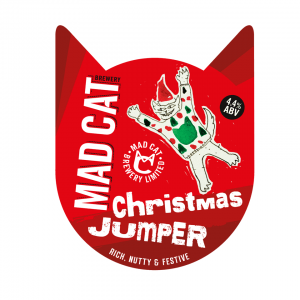 In time for Christmas
The timing of our online launch is perfect with Christmas on the horizon. Our customers will be able to buy crates of bottled beer to see them through the festive season as well as three-bottle Christmas packs. We are also selling five litre mini- kegs, perfect for customers' own festive consumption and great for Christmas gifts too.
Included in the selection available on-line is Mad Cat's festive 'Christmas Jumper' limited edition ale – which has a rich, nutty and malty taste.
Delivery options
As well as click-and-collect from our brewery at Brogdale Farm in Faversham, Mad Cat delivers throughout Kent, offering discounted delivery to customers with ME and CT postcodes plus free delivery throughout Faversham.
Click here to visit our online shop.