Mad Cat Brewery is producing not one, not two, but three Christmas beers this year. To find out more you have to suffer some festive creativity from the marketing department (caterwauling we prefer to call it!).
🎶 Three new beers from a brewery not far,
order online, or over the bar.
Tastes astounding,
flavours compounding.
One's called The Followed Star.
O Beers of wonder, beers so bright.
Great in daytime, better at night.
Hoppy leading,
taste buds pleasing
A festively tasty pint 🎶
The down side to this composition is, it only mentions one beer, The Followed Star. Santa Paws and Christmas Jumper complete the tasty trio of festive brews available from Mad Cat Brewery this Christmas.
Here is a little more about them:
The Followed Star
Let us guide you to a delicious Shining Light Ale. The Followed Star hangs in the firmament promising a touch of citrus pleasure. Simple but Effective. A very pale ale made with a pilsner lager malt, lightly hopped to give a slight lemon citrus twist. Refreshing and moreish.
Malts: Lager Malt
Hops: Cascade, Magnum, East Kent Goldings
ABV: 4.2
Santa Paws
A chestnut brown bitter with malty flavour and fruity, nutty hints. Hops: Bramling Cross and First Gold. Delicious with Festive dinners. 
Hops: Bramling Cross and First Gold
Malts: Pale, Dark Crystal, Chocolate
ABV: 4.0
Christmas Jumper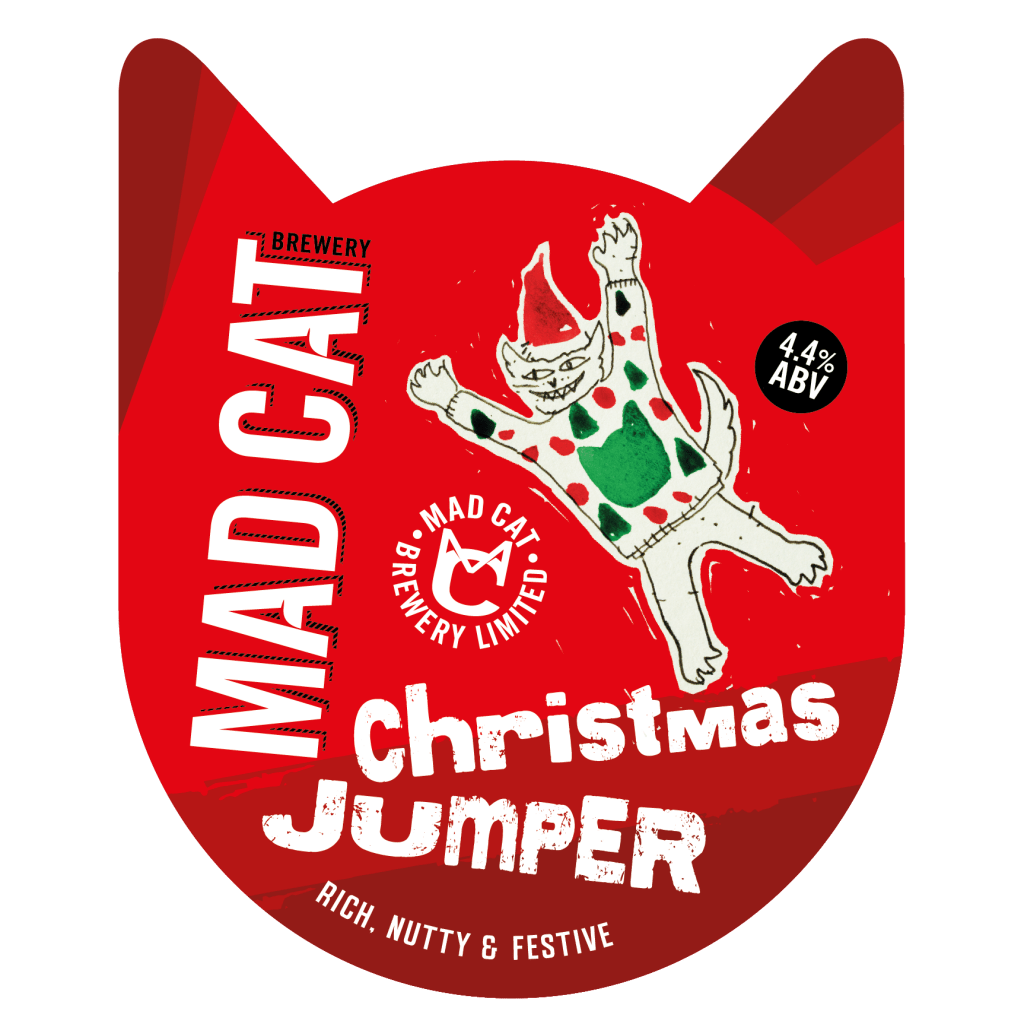 A delicious dark ale brewed to warm the heart whilst relaxing with loved ones around a festive feast. Rich, nutty and malty. Complementary with roasted dishes. A smooth beer to relax and soothe away the troubles of the world.
Perfect with chestnuts roasting on an open fire.
Hops: Target, Columbus, Pilgrim
Malts: Pale, Dextrin, Medium Crystal, Chocolate, Special X, Cara
ABV: 4.4
Our Christmas beers will be available for both our trade and to buy direct from our online shop. For more information, or to preorder ensuring you are stocked up for Christmas, please drop us an email: info@madcatbrewery.co.uk