From an Evolution to a Revolution
There is a reason why we are called the Mad Cat Brewery. We are a little quirky, a little different, the creative kitties here are just full of ideas and inspiration to create new beers with different flavours and ingredients. Mostly, it all works out fine, but, sometimes, just sometimes, the crazy cats here get things a little wrong. And here is an example…
A couple of years ago we decided to create a new beer based on one of our most popular beers, Golden IPA. The idea was that the new IPA would be a hoppier and stronger beer, big on taste, big on aroma. It was to be an Evolution from the Golden IPA and the resulting brew was a roaring success.
So far so good, the beer was conditioning, we needed to get it ready to sell and so it went off to the designers, who were briefed to come up with some branding for out new beer which was to be called Evolution Pale
As usual, Sean and the team at Sand Creative came back with some amazing graphics and Evolution Pale Cat was born.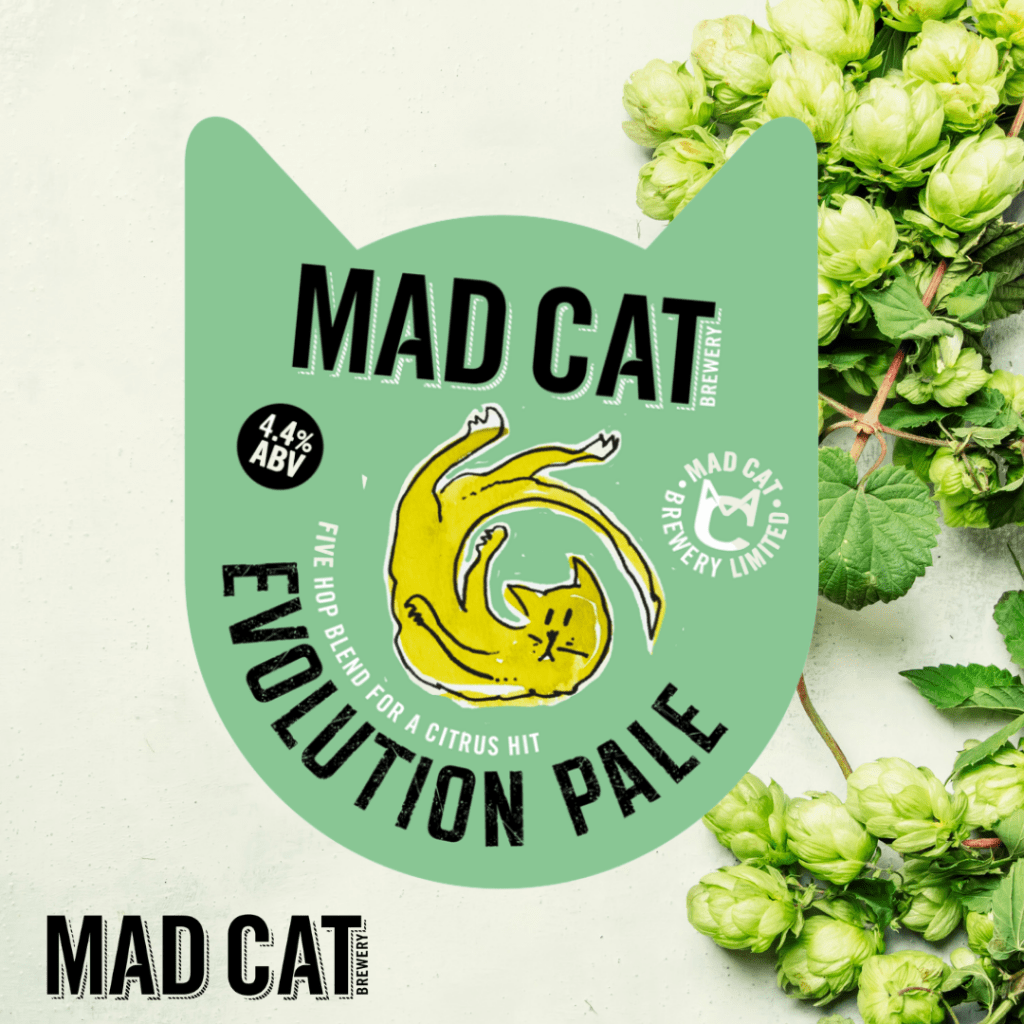 It was at this point that things started to go a little bit skewiff. Sean had come up with a great design for Evolution Pale Cat, it is a tumbling cat, or a cat in a spin. A cat in a spin is a cat that's revolving. A revolving cat that is called revolution not evolution… (do you see where we are going with this?)
And so, we some how ended up with one beer, two names 'Evolution Pale' and 'Revolution Pale'. Never ones to be faced with a problem and not come up with a solution, we came up with a cunning plan… we would brand the beer as Evolution Pale for
Pubs, and we would brand it as Revolution Pale for our cask ales that are sold as retail.
Our mini-kegs , bottles and pubs' real ale hand-pull beer and we would brand it as Evolution Pale for our pubs' keg tap beer. Simples.
The second problem occurred when we found that we had two sets of labels with only the letter R between them. You can imagine… we mixed up the two and found ourselves in a right ole pickle.
But what's in a name? Order Evolution Pale or Revolution Pale from the website, we cannot guarantee what name will be on the label, but we can guarantee what you'll find inside is a very special beer blended from five hops, that is big on taste and aroma.
Going forward this beer's name will evolve to become Revolution Pale only, before we all lose the plot!
Five varieties of hops give a delicious taste sensation; Pilgrim, Cascade, Columbus, Hallertau Blanc and a final dry hopping with Centennial. Perfect with a classic American Burger.
ABV: 4.5%
Look: Light Golden ale
Aroma: Pine, Floral and Citrus
Taste: Passion fruit, Grape and Lemongrass
IBU: 32
Hops: Pilgrim, Cascade, Columbus, Hallertau Blanc and Centennial
Suitable for vegans or vegetarians
Contains barley gluten